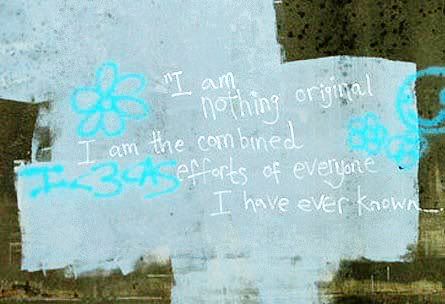 I try to keep those I love close, so at this time all the nitty-gritty is Friends-Only. If you'd like to be part of the collective then please feel free to
add me as a friend!
I love it - just leave a comment letting me know!
Music stations always play the same song.

We're all bored with the concept of right and wrong.
Nikki's Social Calender
Just taking out the trash,

tonight that is.

Right now I am off to work, smelling of sweet vanilla with crisp citrus and apple scents, combined with the strong musk of witch hazel.

I smell like my memories of Brescia. Waking up to the ring of church bells, a sweet mother or delightful friend popping their head in to let me know that breakfast had been prepared for me, to get my morning started right. The father and I couldn't communicate through the language barrier (though we managed through interpreters (family members), and so he spoke in noises. Car rides were my favorite, and sometimes ended in gelato, or pizza.

I think I was still drunk every morning. Either from the lemon liquor, the romance, or the tequilla.

The days were spent in small adventures.

Que sera, sera.
Nikki's Social Calender
Nikki's Social Calender
Facebook is a dangerously depressing place if you're single.
Nikki's Social Calender
Conversation Starter #99
Americans detect a person's emotions by looking at his or her mouth. Other cultures, like the Japanese, focus more on the eyes.
Conversation Starter #98
50 percent of Americans say that if cash were tight, cable TV would be the first thing to go. For 67 percent, ditching the car would be a last resort.
Conversation Starter #97
Ubermanly features -- like thin lips, a strong chin, and an exaggerated brow ridge -- can be a turnoff. Why? Women infer that strong-featured guys are more likely to get into fights and cheat on them.
Conversation Starter #96
On average, people tell one to two lies a day with the intention of deceiving.
Conversation Starter #95
We take pleasure in hearing about a celeb's blunder because unconsciously, we want them to falter just like we do. That way, they seem more human and not so special.
Conversation Starter #94
Firstborns get 20 to 30 more minutes of quality time per day with parents than younger sibs.
Conversation Starter #93
81% of 18-to-25-year-olds today say their generation's top life goal is to be rich.
Conversation Starter #92
There's almost as much bacteria on a shopping cart handle or vending machine button as there is on public restroom surface.
Conversation Starter #91
On a diet? Avoid the mall. A new study says people who are trying exert self-control in some way (like avoiding fatty foods) make more impulse purchases.
Conversation Starter #90
London zookeepers are hoping a new heated waterfall in the gorilla exhibit will make two reluctant lovebirds randy enough to mate.
(
More here...
Collapse
)
Nikki's Social Calender
I just got a job offer - I start tomorrow at 9am.
It's temp to permanent, but they're paying $18/hour right now, which will be 40-45K annually with full benefits.

Thank you, universe. :)
Nikki's Social Calender
I think (I think) I have a plan for the weekend:
Saturday:
AM - Head to St Lawrence Market for some food-browsing.
In the afternoon Im heading to see Paris Je T'Aime
http://en.wikipedia.org/wiki/Paris,_je_t
'aime
Sunday:
Naked beach time!
Nikki's Social Calender
Does anyone want to play a game?
A photo scavenger hunt perhaps?
Winner makes the other a home CD with art?
(
ela_bird
I'm using your idea, but it's a fabulous one so I hope you don't mind!)
autumnsky79
I'm looking in your direction, you saucey minx! Even D can play!! We could have a threeway competition!
But seriously, anyone else? I'll explain the rules once you agree! BUT you need a digital camera OR a way of getting other photos on the computer.
Nikki's Social Calender
I put my box in a box for you.

That's love.



And Taco Bell might make you sick, but my taco's certified.

I'm speechless.....and I can't get it out of my head!
Nikki's Social Calender
Ronni Bennett is a 63 year old woman from New York, whose blog is focused mainly on aging. I came across her blog through www.dontoearth.com a 93 year old Canadian man who actually sends letters to his daugher in Nova Scotia and she then types them up in the blog for him. He was featured on the Hour last night. Here's a funny article from Ms Bennett:

Let's All Retire To the Hilton

[EDITORIAL NOTE: After we discussed one kind of retirement living earlier this week, I was reminded of this post from a couple of years ago. I received it in an email which means it may have made its way around the web a thousand times and you already know it. Even if that is so, it's almost credible, wonderfully funny and worth another read.]



"No nursing home for me! I'm checking into the Hilton Inn. With the average cost for a nursing home per day reaching $188.00, there is a better way when we get old and feeble. I have already checked on reservations at the Hilton. For a combined long-term stay discount and senior discount, it is $49.23 per night. That leaves $138.77 a day for:

* Breakfast, lunch, and dinner in any restaurant I want, or room service
* Laundry, gratuities, and special TV movies
* Plus, they provide a swimming pool, a workout room, a lounge, washer, dryer, etc. Most have free toothpaste and razors and all have free shampoo and soap. They treat you like a customer, not a patient. $5.00 worth of tips a day will have the entire staff scrambling to help you.

There is a city bus stop out front and seniors ride free. The handicap bus will also pick you up (if you fake a reasonably good limp). To meet other nice people, call a church bus on Sundays. For a change of scenery, take the airport shuttle bus and eat at one of the nice restaurants there. While you're at the airport, fly somewhere. Otherwise, the cash keeps building up.

It takes months to get into decent nursing homes. Hilton will take your reservation today. And you are not stuck in one place forever. You can move from Hilton to Hilton, or even from city to city. Want to see Hawaii? They have a Hilton there, too - the wonderful Hilton Hawaiian Village and Spa.

TV broken? Light bulbs need changing? Need a mattress replaced? No problem. They fix everything and apologize for the inconvenience. The Inn has a night security person and daily room service. The maid checks if you are okay. If not, they will call the undertaker or an ambulance. If you fall and break a hip, Medicare will pay for the hip, and Hilton will upgrade you to a suite for the rest of your life.

And no worries about visits from family. They will always be glad to find you at the Inn and will probably check in for a few days' mini-vacation. The grandkids can use the pool.

What more can you ask for?

So, when I reach the golden age, I'll face it with a grin. Just forward all my email to the Hilton Inn."

Upon telling this story at a dinner with friends and too much red wine, we came up with even more benefits the Hilton provides to retirees:

Most standard rooms have coffeemakers, easy chairs with ottomans, and satellite TV - all you need to enjoy a cozy afternoon. After a movie and a good nap, you can check on your children (free local phone calls), then take a stroll to the lounge or restaurant where you meet new and exotic people every day. Many Hiltons even feature live entertainment on the weekends.

Often they have special offers, too, like the Kids Eat Free Program. You can invite your grandkids over after school to have a free dinner with you. Just tell them not to bring more than three friends.

If you want to travel, but are a bit skittish about unfamiliar surroundings, in a Hilton you'll always feel at home because wherever you go, the rooms all look the same.

And if you're getting a little absent-minded in your old days, you never have to worry about not finding your room. Your electronic key fits only one door and the helpful bellman or desk clerk is on duty 24/7.

I told Stephen Bollenback, CEO of Hilton this story. I'm happy to report that he was positively ecstatic at the idea of us checking in for a year or more at one of their hotels. Stephen said we could have easily knocked them down to $40 a night.

See you at the Hilton. And not just for a "Bounce Back Weekend," but for the rest of our lives.

[At The Elder Storytelling Place today, Joy Des Jardins relates her childhood misadventures at trying to avoid dreaded needles in The Doctor is Out.]
Nikki's Social Calender